Our customers often become our friends. Our pups have gone to homes far and wide in this country and abroad. We are always interested to hear how our babies are doing. By the same token we are always at the end of a phone for any help or advice should you need it.

Here are a few comments and pictures from our owners...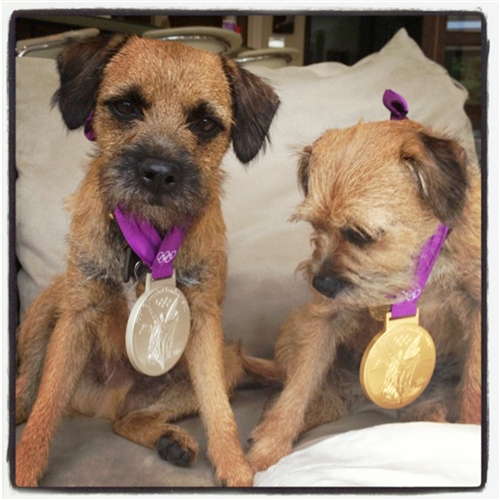 Rusty (Left) wearing his silver medal!! Congratulations to Andy Murray, family and dogs!
(Below is Tennis star Andy Murray and girlfriend Kim Sears with their pup)
Hi Kate,

Thanks so much to you and your Mum for having us at the weekend, it was lovely to meet you both and all your gorgeous dogs. I'm so excited about our little boy! Marian told us to email when we'd thought of a name so she could start calling him by it, and after much debate we've decided on Rusty, so would appreciate it if you could pass it on, thanks.

See you in a few weeks,
Kim
Thought you might like a picture of Jess. She is six months old now and is growing into a lovely well behaved dog. We love her to bits! And she is beautiful!! (The Cox family,London)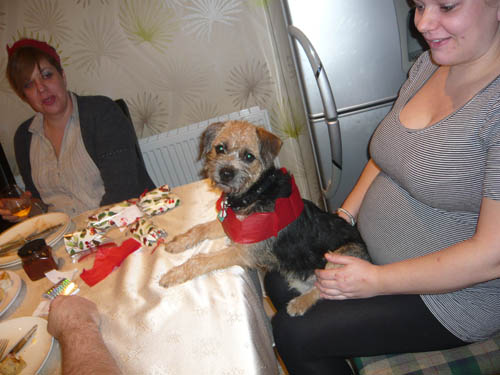 Hi Kate
Molly safely in new home – very sweet! She had a great journey and has a very waggy tail – I have finally persuaded the girls to go to bed!
Best wishes and THANK YOU…she is lovely!
Liz (Nicholson family, Oxfordshire)
Hi Kate
See details of Scrappy's weekly playdate on Tuesday, he loves it, with other dogs.
He's a wonderful dog, we are enjoying him loads!(Scrappy, right)Thank you x
Juliana Snelling and family (Bermuda)
Hi Kate,
Just a quick email to let you know Dexter has settled in really well! We had a good journey home with no accidents, didn't seem to suffer from car sickness luckily. He had a busy afternoon with the girls who tired him out in time for a quick snooze with Nick on the settee. We didn't hear a peep out of him all night and I think for the first time ever both the girls were up and ready by 7am!!
Will keep you posted,
Michele,Nick, Natalie And Emily.(Mabbut family, Surrey)
Hi Kate
Just to let you knowv that Ernie has made himself right at home and has settled
in lovely. he is now a much loved member of our family
thanks
Peter & Jill (Neal family,Berks)
(his nickname is Airborne as he is always being picked up and cuddled)
p.s Good luck with your plans for future breeding